Barcode Scanner in a Supermarket
Barcode Scanner in a Supermarket
There are different types of barcode scanners on the market, but they all serve the same function: to read barcodes.
Here's how to use a barcode scanner in a supermarket.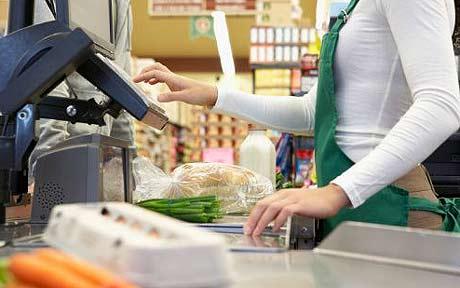 In some supermarkets, you'll see barcode scanners near the shelves. It helps you keep track of your spending as you shop, so you don't have to take some items out of your cart when you check out.
If you're using a handheld scanner to check prices, simply hold the product's barcode near the scanner and press the yellow button. You will get the cost of the product. The barcode scanner will also show whether the item is available for sale.
If you use a desktop barcode scanner at checkout. Simply hold each product up to the scanner and present the barcode. Then, wait for the beep for the scanner to scan the code and add its price to the point-of-sale system.
If you're buying bulk items that don't have a barcode on them, you'll need to check the weight of the product on a scale. That machine will give you a label with a barcode on it. Stick the label on the product. The tag will help the cashier to scan the barcode and keep the record in the pos system for payment.
Desktop barcode scanners are easy to operate. Plug and play. These scanners are compatible with every pos system and read barcodes and QR codes with a high recognition rate.