Powecom KN95 Respirator Protective Masks
We can get POWECOM kn95 mask stock everyday.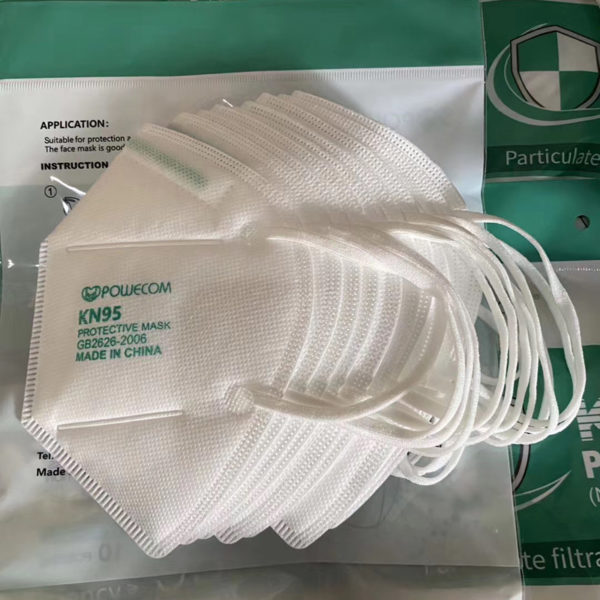 KN95 Mask Description:
Product Name: KN95 Protective Mask
Standard: GB2626 – 2006
EN 149:2001 + A1:2009 Respiratory protective devices – Filtering half masks to protect against particles – Requirements, testing, marking.
Class: FFP2 NR
CE CCQS Certification
CE SGS(Europe based) Certification
FDA Certification
Filtration ≥95%
RANGE OF APPLICATIONS:
suitable for protection against powder, PM2.5 smog, particulates, flu, bateria, saliva, dust etc.
The face mask is good for wind proof and protection the face against cold weather.
Wearing method:
Open the mask and place the bridge of the nose on it. After wearing the mask, press the bridge of the nose to close it. The protective effect is better.
MODEL NO: KN95
PRODUCTION DATE AND EXPIRATION: see PASS CERTIFICATE in bag
Store in dean and cool place, Humidity <80%, temperature -10°C ~ 40°C product valid for Three Years
STANDARD: GB2626 – 2006 KN95
CAUTIONS:
1.Keep the face mask clean before use. Do not touch the rear side of face mask.
2.Ensure the face mask fit to face, by adjusting the nose piece, keeping mask edge dose to face.
3.Check the air sealing of mask. Do not use if the face mask is broken or with hole or leakage.
4.Do not wash the face mask with water Water will destroy filtering ability and protection.
5.Do not steam the face mask, and do not put it in microwoven.
6.Keep the face mask away from vapor; oils, chemicals, paints, liquid, acid, alkaline objects.
7.Discard the face mask when it gets quite dirty or breathing resistance increase remarkably
The Profile of POWECOM
A Large Masks Manufacturer owning the Brands "POWECOM", "OKSAFE"
Guangzhou Powecom Labor Insurance Supplies Co., Ltd is on the FDA approved list to be imported to USA.The list of manufacturers approved under EUA policy of the USA, please visit https://www.fda.gov/media/136663/download
POWECOM company has CE certification ( by CCQS ), and is on the China's white list Please visit the official website http://en.cccmhpie.org.cn/