6-Inch Label Printer 6200DC
Looking for a label printer that combines functionality and convenience? The 6-inch label printer 6200DC can meets all your printing needs with its wide-format capabilities and cutting-edge features.
One of the standout features of the 6200DC is its 6-inch wide format printing capability. Imagine printing large labels, tags, or even banners with ease. Whether you need to create eye-catching price tags or eye-catching shipping labels, this printer has you covered.
Designed with a desktop setup in mind, the 6200DC blends seamlessly into any workspace. Compact yet powerful, it offers easy access and hassle-free operation, making it ideal for businesses, offices and even creative studios.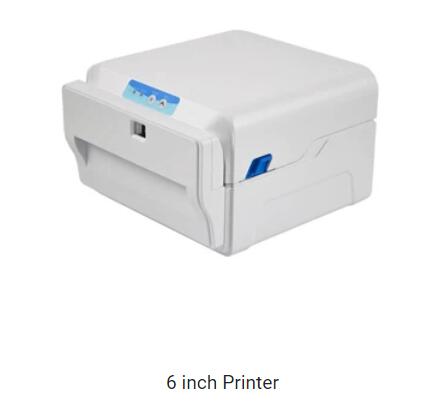 The 6200DC is equipped with state-of-the-art thermal printing technology, ensuring clear, high-resolution labels every time. No more fuzzy prints or faded text! Additionally, it comes with a specialized steel cutting blade that allows you to achieve precise, professional label cuts that enhance the overall presentation of your product or packaging.
With the 6200DC, connectivity was never an issue. It offers a range of versatile options, including USB, serial ports, and Ethernet, giving you the freedom to connect it to your favorite devices. Whether you want to print directly from your computer or connect it to a network for shared printing, the 6200DC has the flexibility you need.
With its convenient front paper loading feature, changing label rolls or changing ribbons is a breeze. Say goodbye to complicated operations and welcome efficient, time-saving label printing.
So whether you're a small business owner, a creative professional, or someone who simply values functionality and ease of use, the 6-inch label printer 6200DC is the perfect printing companion. Invest in this innovative device and experience the benefits of wide-format printing, desktop convenience, thermal precision and versatile connectivity.
Don't miss the opportunity to enhance your tag game. Buy the 6200DC 6-inch Label Printer today and take your printing to the next level!